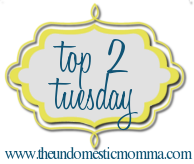 Diet Dr. Pepper/ Dr. Pepper- I love DP and if I could drink the real stuff and not have to worry about the calories or sugar, I'd probably drink a 6- pack a day. We grew up on the them with my Grandmother and she taught me the best way to drink them is to freeze it for an hour and make it slushy like. Yum
2.
7 Deadly Zins/Red Wine- I LOVE red wine, white is great, but I love red. I discovered this bottle a few years back at a local restaurant and it's not too expensive, so I buy it all the time for the house and it's fabulous.
So what are your top two picks? Go visit Taylor and let us know.