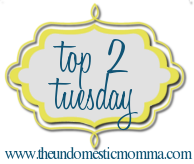 1.
Maria Menounos- I love her soft curls and beautiful
brunette hair.
To this day, I still suck and curling my hair, I am trying to learn
but it's crazy that at 28 I've never mastered curlying my hair.
2.
Carrie Underwood- The girl first off is gorgeous, but she always has great hair, even at
the hockey games, ugh so jealous.
So who are your picks for Top 2 celebrity hairstyles. Visit Taylor at
The Undomestic Momma
and tell us.
On a different note, please, please, please continue to pray for me a full-time job, the money issues are getting even tougher now and I just can't think that at almost 29, I may have to go knock on Mom and Dad's door and ask to borrow money to make ends meet. Thanks ladies!!