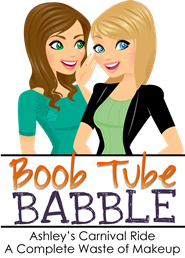 1.

Of course I watched BIg Brother, I have to say that I wish it had been Rachel who left the house this week and not Adam....She annoys the heck out of me. Then of course in BB style, there is a twist and Brendon comes back. Ugh another week of being annoyed by Brendon and Rachel. G-REAT!!! Aren't we all so excited?
2.

I am excited about checking out a few of the upcoming Fall shows that are coming out. 2 Broke Girls looks like it's going to be funny. Then The Playboy Club, I'm curious to see what it's like. Of course the favorites....The Amazing Race, I'm ready for it to come back.
3.

Then we have Army Wives, quite possible my favorite series of all time. (as an adult) I am obsessed Love this show, I own every season on dvd and will buy this seasons when it comes out a t.v. too. Do you watch it?